Date/Time
Date(s) - 04/12/2018
12:30 pm - 2:30 pm
Location
Radisson Blu Plaza Hotel Sydney
Categories No Categories
Meet ASX listed companies, learn what makes their business compelling, ask their CEOs and executives the questions you want, to get the leading edge, make better-informed decisions and learn about market opportunities.
The Finance News Network and its event partner, preeminent investment house Shaw and Partners, run regular Investor Events that unite companies, investors and stockbrokers. 
To keep your finger on the pulse and stay abreast of opportunities, secure your seat at our next event. Register below, bookings are essential.
---
Market Update
A short update on the current state of equity markets will also be provided at the event by,
Adam Dawes | Senior Investment Adviser
Adam will provide a short update on the current state of equity markets from a Shaw and Partners perspective. Adam Dawes is a Senior Investment Adviser and has worked at Shaw and Partners since 2003. Adam manages his clients' affairs with complete professionalism and dedication, achieving the best possible financial outcomes to meet clients' goals. In total, Adam has over 14 years of experience in wealth management, delivering investment advice on a wide range of areas, including equity trading, portfolio and risk management, bonds and superannuation.
---
Presenters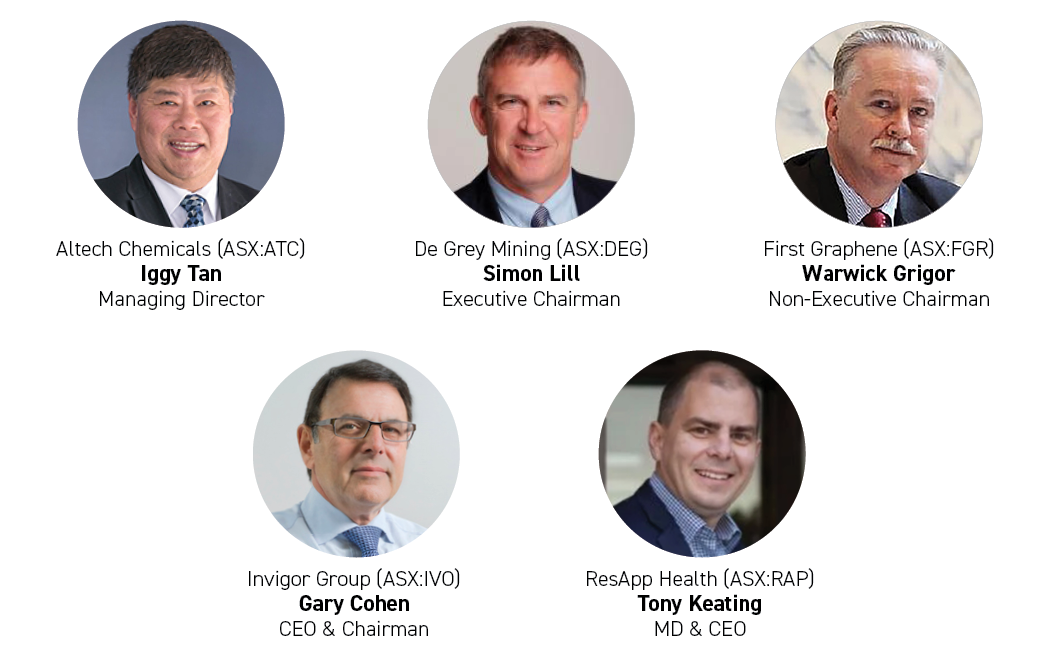 ---
Company Profiles


Altech Chemicals Limited (ASX:ATC)
Altech Chemicals Limited (Altech/the Company) is aiming to become one of the world's leading suppliers of 99.99% (4N) high purity alumina (HPA) (Al2O3).
HPA is a high-value, high margin and highly demanded product as it is the critical ingredient required for the production of synthetic sapphire. Synthetic sapphire is used in the manufacture of substrates for LED lights, semiconductor wafers used in the electronics industry, and scratch-resistant sapphire glass used for wristwatch faces, optical windows and smartphone components. There is no substitute for HPA in the manufacture of synthetic sapphire.


---
De Grey Mining Limited (ASX:DEG)

De Grey Mining is a WA based mining company that centres on the exploration of base and precious metals.
Established in 2002, the company's current and primary focus lies in the north west region of Western Australia on the Pilbara Gold Project, which has found to be prospective for gold mineralisation. De Grey is committed to ensuring the safe and efficient operation of its projects and has so far recorded impressive results.

---
First Graphene Limited (ASX:FGR)
First Graphene is an advanced materials company seeking to position itself in the lowest cost quartile of global graphene suppliers. It has developed an environmentally sound and safe method of converting its supplies of ultra-high grade graphite into the lowest cost highest quality graphene, in bulk quantities. In so doing it is addressing the three greatest impediments to the commercialisation of graphene, being reliable quality at realistic prices in sufficient volumes to facilitate the development of applications in modern materials, energy storage devices, coatings and polymers.
It aims to use these competitive advantages to access new technologies and processes and in turn gain maximum leverage to the entire graphene supply chain, from sourcing the raw material to end use, with development of associated intellectual property for licencing and sales.
---
Invigor Group Limited (ASX:IVO)
We are all connected all the time. Today's connected consumer expects more from the retailers and brands they love. They expect to be engaged in more intelligent and relevant ways and within the context of their current location and situation.

We're a leading data analytics, insights and loyalty company and our mission is to provide a world-class platform to the retail sector, giving them access to the latest marketing technologies so they can effectively engage with their customers while increasing loyalty.

Our difference is that we focus on business outcomes. We take a strategic view to deliver our clients profitable growth. Our interconnected data sets allow better understanding of markets, competitors and consumers through affordable cloud-based solutions.

Our results are effective actionable insights that truly serve customers better, improves retail operations and deliver higher frequency and sales conversion – a demonstrable and measurable return.

---
ResApp Health Limited (ASX:RAP)
ResApp is developing digital healthcare solutions to assist doctors and empower patients to diagnose and manage respiratory disease. We are creating easy to use, affordable, clinically-validated and regulatory-cleared diagnostic tools that only require a smartphone. Our solutions are designed to be easily integrated into existing telehealth solutions and we are also working on apps to provide respiratory disease diagnosis and management directly to consumers and healthcare providers.
more to come…